Ok, I know I was supposed to post this earlier in the week, but then my kids got the flu. You know how it goes. Read on for my favorite reads in contemporary romance and the nonexistent subgenre "romance novels that are quirky, perhaps a little nerdy, and also don't have a lot of sex." Stay tuned in a couple of days for my final roundup post on erotic romance, erotica, and the two non-romance, non-erotica books I read (and liked) in 2014.
Contemporary romance:
Between the Sheets by Molly O'Keefe
The Chocolate Touch / The Chocolate Temptation by Laura Florand
Laugh by Mary Ann Rivers
Still Life with Strings by L.H. Cosway
Private Politics by Emma Barry
Truly by Ruthie Knox
Look at the list above. These ladies are my auto-buy list for contemporary romance (and, in Molly O'Keefe's case, for historical as well). Between the Sheets is my favorite of all of O'Keefe's contemporary romances (that I've read: I've been saving some of the backlist to savor later on) because its characters just sang to me, especially Shelby. She's one of those difficult heroines I treasure — her choices may not be the ones "nice" women make, but they're the ones that make sense for her, even when they're unhealthy. Ty and Shelby's story is not lighthearted, but O'Keefe gave me (because, yes, this book is all for me. Back it up, bitches.) a story that was believably gritty and intense without being depressing (despite its forays into elder care, school bullies, incarcerated parents, and the ramifications of abuse).
On a somewhat more lighthearted note, Florand's The Chocolate Touch and The Chocolate Temptation (along with the other six Florand books I read last year) provided 100% of my hot, French, chocolatier hero needs. Kim and I went gaga for Touch and probably each read it three or four times in a few months (and we'll probably read it at least once more, soon, because we still need to write our dueling discussion on it.), and Tasha and I discussed Temptation together. If you read the last roundup post, you've probably figured out that I'm a sucker for heroines, but it's Florand's heroes who always shine. Don't get me wrong, her heroines are great, but Florand seems keenly aware that there is great power in a hot guy who smells strongly of chocolate, and she capitalizes on that power.
Kim and I reviewed Laugh, so I won't add too much to my obscene word count here. I loved it for all of its details — the farming and Nina's shorts, for instance — and for its portrayal of relationships in all their messy glory. Rivers' characters, Sam grappling with his ADHD and Nina with her grief and fear for her friend, don't have an easy time of it on their road to love, but sometimes the best things are hard-fought. Tasha said Still Life with Strings was good, so I read it and sent shouty texts to Kim that went like this: "KIM. KIM. KIM. KIM. Did you see Tasha's post about Still Life with Strings? Have you read it yet? DOOOO IITTTTTTTTTTTTTTTTT." And she did. Lucky me, she loved it, too. (Would have been awkward, otherwise.) Ahem. This book is a tad unconventional (in all the best ways) matching a Stradivarius-wielding, slightly depressive, violinist hero and a bartending, street performing, avant-garde art enthusiast heroine. Mostly, I loved how fun it is and how it doesn't shy away from class differences & the assumptions of the economically secure.
Private Politics is the second in Barry's The Easy Part series (which is part The West Wing and part Mr. Smith Goes to Washington — especially the first book in the series — and all romance gold). Private Politics concerns the masks we wear and the stereotypes that can define our lives and limit our chances, if we let them. So blond, perfect, socialite Alyse, used to using her looks and image to get things done (and to being undervalued), learns how to take herself seriously and to demand the same of others. Liam, a somewhat soft, nice Jewish boy, infatuated with Alyse, transitions from lovesick doormat to equal partner (demanding respect along the way). My favorite part was Liam's mom, but that's neither here nor there.
Finally, there's Truly. Now, I'll be honest. Technically, I read this book for the first time in 2013. (It was serialized on Wattpad), but I read it as a complete book when it was released in 2014, so… I'm counting it anyway. While I'm being honest, I've got to tell you that Truly has two of the most potent pieces of Kelly's reading catnip imaginable: a tall heroine matched with a grumpy hero. For reals, I love those two things so much that my bias is out of this world. But wait, there's more: Meg starts as an extreme case of mid-western politeness and learns how to be more difficult (and more true to herself) in the wilderness of New York City (and on the road back to Wisconsin); Ben, a grumpy, beekeeping, former chef, alone and adrift, makes what peace he can with his past and does some extraordinary groveling to make up for all the times he was a douchepony. Of course I loved it.
Books I keep trying to get people who don't like romance to read (a.k.a. quirky romance):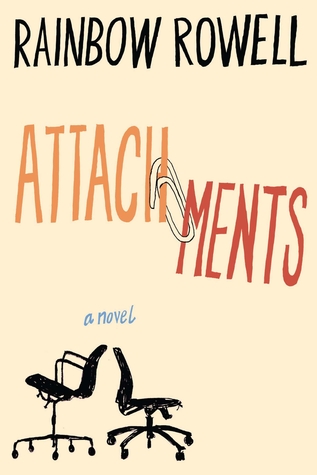 Attachments by Rainbow Rowell
The Girl with the Cat Tattoo / The Geek with the Cat Tattoo by Teresa Weir
Neanderthal Seeks Human by Penny Reid
So, here's the thing. I'm a romance novel enthusiast: I read romance almost exclusively, and I think that most people, if they could get past the mental image of Fabio (oh that we could all get past that image) and the idea that romance fiction — in its entirety — is guilty pleasure reading (Don't get me wrong… there are things I read that I feel deeply conflicted about enjoying. That just proves to me that I'm doing it right.), could find themselves actually liking a romance novel or two. Romance is frequently not the problem. After all, it's what makes pretty much any story ever interesting and relevant to humans. Buuuuuuuut…. highly descriptive sex scenes? Now, those are definitely not everybody's cup of tea.
For those of you bravely reading this blog, certain that you'll never, ever want to read any of the books I'm talking about because velvet-covered steel and dewy petals (and every synonym for "thrust"), this section is for you.
Attachments is a largely epistolary novel that weaves a story around emails exchanged between Jennifer and Beth, two employees at a newspaper, and narrative about Lincoln, the guy who's been hired to monitor workplace email and ensure compliance with the company's email policy. It's funny and strange and ever so slightly creepy (but the creepiness didn't bother me so much because Lincoln felt so conflicted about it). I loved it because (1) it was set around Y2K, (2) Beth and Jennifer's emails are such an accurate depiction of friendship, and (3) it managed to have a totally believable romance even though the characters don't actually meet until the very end.
The Girl with the Cat Tattoo is a romance and (kind of) murder mystery mostly narrated by the coolest cat ever. I'm a thwarted cat lady (my husband is allergic, so no kitties for me; otherwise, I'd happily end up with a houseful of cats and litter boxes), so the cat narrator appealed to me. The instant I finished it, I purchased The Geek with the Cat Tattoo, which I liked even better (no murder mystery to distract the story from the characters; Geek has a painfully shy human matched with a cat who controls minds and helps bring the reluctant hero and heroine together.).
Neanderthal Seeks Human self-describes as a "smart romance." It begins in a toilet stall and follows the exploits of its narrator, Janie, an awkward architect/accountant/mathemagician who is two steps shy of autism spectrum. Janie's POV is incredibly fun to experience, even when she misses all the obvious clues. Three reasons I love Janie: Panty Dance Parties, the way she uses the knitting group as a focus group to determine appropriate emotional responses, and her use of the moniker Sir Handsome McHotpants to refer to Quinn, the hero.  Honestly, I loved all the Knitting Series books, especially Love Hacked, but Neanderthal Seeks Human has a closed bedroom door, so I'm recommending it here. The later books in the series have significantly more sexy times (because their narrators aren't Janie).
I hope you enjoyed this installment of my 2014 roundup. If you didn't…